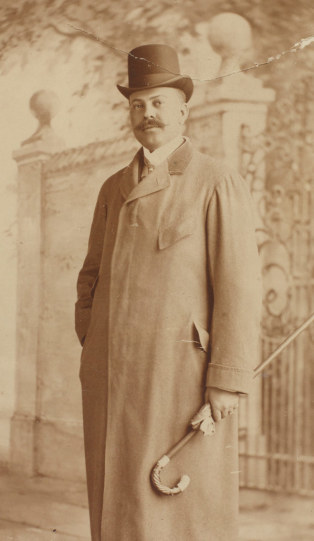 15 June 1864, in Victoria, Texas, William Henry Ellis, also known as Guillermo Enrique Eliseo, was born into slavery to Charles and Margaret Nelson Ellis. Born a slave, William Henry Ellis would go on to make millions through stock brokering.
The Civil War was fought in the United States between the North (Union) and the South (Confederates). The Civil War began 12 April 1861 and ended on 9 May 1865, with the Union Army being victorious. The ending of the Civil War led to President Abraham Lincoln signing the 1863 Emancipation Proclamation, which freed enslaved African Americans from the bondage of slavery.
23 December 1867, on a cotton plantation near Delta, Louisiana, Sarah Breedlove, known as Madam C. J. Walker, was born to Owen and Minerva Breedlove. Sarah Breedlove was the fifth child born to recently freed enslaved Owen and Minerva, but the first child to be free-born. Not allowing the shackles of slavery to hold her back, Sarah Breedlove would go on to become a self-made millionaire through her business savvy mentality.
Understanding that some former slaves did not allow society to hold them back from reaching their full potential is important to the African American community. William Henry Ellis (Guillermo Enrique Eliseo) and Sarah Breedlove (Madam C. J. Walker) are two influential African Americans whose names we, the African American community, do not speak of nor hear of often enough.
Enrique Eliseo passed and began advertising his race as being of Mexican or Hispanic ancestry, though he was not. Growing up in Victoria, Texas, Eliseo identified with the Hispanic heritage of the area's Mexican-American population. In his working years, Eliseo worked as a ranch hand and then as an assistant to a leather dealer. Still in the Victoria area, Eliseo would go on to trade cattle and dealt in hides and wool. Eventually, Eliseo would expand his hide and stock trade into other areas of Texas, New Mexico, and Arizona. Eliseo worked as a custom inspector in Brownsville at some point in his lifetime. He also attended college in Nashville and took a few business courses in New York. Yet, Eliseo saw untapped opportunities in Mexican trade and began successfully dealing cotton, wool, hides, horses, and cattle across the border. In his mid-years, Eliseo began getting involved in African American politics and ambassador-like activism. He attempted to find work and relocate African Americans to Mexico for work. When that failed, he began open-commination with Ethiopia. On 24 September 1923, in Mexico City, Mexico, Guillermo Enrique Eliseo passed away, leaving his truth a secret to be uncovered and a strong legacy to be remembered.
Madam C. J. Walker became an orphan at the age of 7, when her mother died in 1874 and her father passed the following year. Madam Walker was then sent to live with her sister and brother-in-law in Vicksburg, Mississippi. After slavery, the South implemented the notion of sharecropping. Madam Walker was among many of the post-slavery era who worked as a sharecropper. She picked cotton and was also likely employed doing household work due to her age. In order to escape both an oppressive working environment and abuse from her brother-in-law,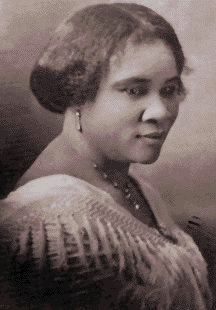 Madam Walker married Moses McWilliams. Together they had a daughter in 1885, but unfortunately, two years after the birth of their daughter, Madam Walker was left widowed at 20 years of age. Madam Walker then took her daughter and moved to St. Louis where her brothers were successful barbers. Madam Walker found work as a washerwoman and made enough work to be able to afford to send her daughter to school. She herself attended a public night school whenever she was able. St. Louis is where Madam Walker met her second husband, Charles J. Walker who worked in advertising and would later help promote her hair care business. When Madam Walker developed a scalp disorder that caused her to love a lot of her hair, she began experimenting with home remedies and store-bought products in an attempt to improve her condition. Madam Walker's brand really took off when she was hired by Annie Turnbo Malone. She then traveled promoting her hair care products. As profits increased, Madam Walker began to give back to her community. She opened a factory and a beauty school. She was also big on philanthropic endeavors. Sadly, Madam Walker passed away 25 May 1919, but left a huge legacy to remember.
Guillermo Enrique Eliseo and Madam C. J. Walker are just two individuals within the African American community whose names should be recognized, talked about, and remembered. Knowing that there were influential and affluent individuals within the African American community is important to the self-worth and confidence of African Americans.