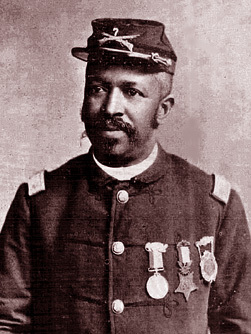 African Americans are not honored enough for their contribution to the American culture and history that went in to making this nation great. A man, not spoken of often enough, should be more recognized for his honor, bravery, and courage during his time serving in the American Civil War.
Christian Fleetwood was born Christian Abraham Fleetwood on 21 July 1840 in Baltimore, Maryland. He is known for his involvement during the Civil War and even received a Medal of Honor for saving the American Flag from capture. He fought in the Battle of Chaffin's Farm for the Union Army. He later worked for the National Guard. During his time fighting for the Union Army, 1863-1896, he ranked as Sergeant Major due to his wealth of knowledge. His infantry was the 4th US Colored Infantry Regiment. He was a graduate of Ashmus Institute, now Lincoln University. He ranked as a Major with the National Guard.
Christian Fleetwood married Sara Iredell on 16 November 1869. Sara Iredell's grandmother was Louisa Burr who was the sister of Philadelphian abolitionist, John (Jean) Burr. Iredell was also the daughter of Vice President of Aaron Burr and her maternal uncle was novelist, Frank J. Webb.
Christian Fleetwood die on 28 September 1914 in Washington, DC. He is buried in Columbian Harmony Cemetery.